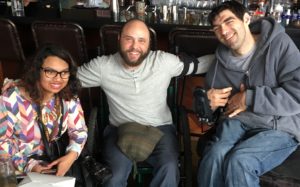 Image description: RCI members Kiersi Coleman (left), Nico Serra (middle), and Allen Hines (right) in a group photo at a restaurant.
Last week, lawmakers in Salem passed Senate Bill 20, which pertains to services for people with intellectual and developmental disabilities. The bill included language from a bill RCI introduced to ensure that people living in group settings are presented with options of where they live and receive services – including the option of in-home supports.
The choice of setting provisions do the following:
Direct case managers to present individuals they serve three settings to choose from. One of these settings must be the person's own home, where they can receive in-home supports.
Direct case managers to have choice-of-setting conversations annually
Remove an exception for case managers to decide that giving people three options is not feasible
Everybody communicates. Everybody has choice
about where they live and receive services.
RCI director Allen Hines will be giving a presentation at the Annual Service Coordinator and Personal Agent Conference to support participants to gain knowledge about settings and have fruitful conversations with the people they serve.This is the first of many victories to make quality housing in the community accessible to people with disabilities. RCI works on a range of issues, such as advocacy for the creation of more affordable, accessible housing and identifying existing accessible housing.